Cool!



Sorry about that! I think the video size is too large to play in google drive. You might have to download it! Edit: I will compress it into a smaller file size
Awww. I watched that with my flatmates and Wiggles and I think both humans nearly cried. It was amazing



I spotted a spelling mistake at 2:45
Thanks, it was fun editing it; Wiggles is a cute dog!
Oops, sorry! Feel free to leave any other feedback to make the video better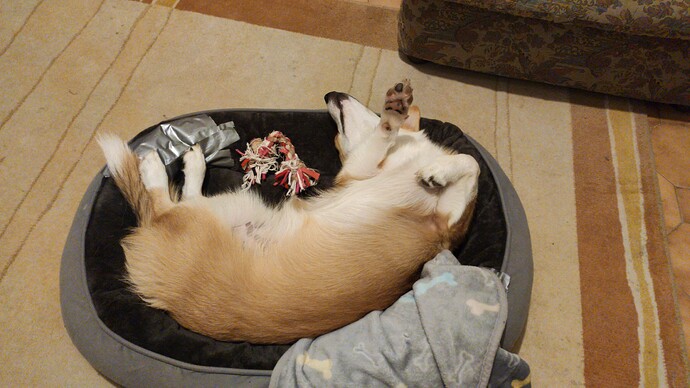 He says thank you



We only made a few videos as when I got him we were bouncing around couches for a few months before I could bring him back to a Portugal, and it was exhausting. Then lockdown came in.
There'll be more soon though

I'm not sure I can think of any more feedback. It's a really good video

If you really want the feedback for learning reasons I could tag a few other editors

Sure! I would appreciate other editors' feedback. I've uploaded the full-size video here. The reason it's such a big file size is because YouTube will always compress it down, so it's better to go over with quality than under.

I'll be looking forward to more Wiggles videos! Is there anything of priority currently regarding video editing? It might be because I'm currently rendering, but the projects page isn't loading for me
Awesome! There's some more videos I can upload from Wiggles. Only one more public happiness activity with him though. I'll upload them today. Click the video editing tag at the top of this thread and then you'll find the tasks list
@Julita @MarinaOhNo @VideoProduction team, can you guys give any feedback on Scarflicters wonderful video?
Let me know when the text is fixed and I'll begin sharing the video


Fantasticcc work, @scarflicter

Thank you so muchh for your amazing video


The world has to see this beautiful dog who makes this world a happier place

Here's the video, for those who can't find it.
You can't play it in Google drive so you'll have to download it. @scarflicter would love your feedback
@scarflicter just let me know when the text is fixed and i'll upload it to our channels
Also, i just uploaded a whole load more videos of Wiggles here. I think in around a month i'll start inviting people to meet with me and wiggles and do positive activities again, depending on how the virus situation is looking
Hi, sorry I forgot to mention but the last link I shared is the video with the fixed text.
Link again for final video
Sorry, just like I mentioned in the other reply, I forgot to mention but the last link I shared is the video with the fixed text.
Link again for final video