Moving our conversation here:
Floating Footer
The footer will appear across our site. It should read the URL and show different buttons in the 4 different types of pages.
Design: Simple, white, similar to the rest of the forum.
The links should be editable in the admin area
How it works?
Our theme components create pages which we use for project management. They use relative URLs, so we can have one button which works perfectly across the whole site as it's just adding the same text to the end of the URL, then loading that page.
Different buttons for different sections
Section 1: Home Page for a logged out user
---
Section 2: Home Page for a logged in user
(Still under design)
---
Section 3: Forum Pages
Tag pages in the forum open on 'Latest' by default. We don't have space to add a sixth option but it might be nice to have a small home symbol which takes users back to the 'latest' page on the tag-pages they are viewing.
⌂ | [Discuss] [Votes] [Tasks] [Cal] [Stats]
adds 'l/latest?board=default' to the tag or tags the users is currently viewing
takes users to l/calendar for their current tag or tags
---
Section 4: Map pages
https://publichappinessmovement.com/docuss/m_gather
---
This creates the evolving and flowing workspace we're building. It will include a floating footer which navigates between popular project discourse management plugins/components by adding text to the url for each tag page.
for example:
Tag-Page: tags/reactjs
click 'Board'
url appends to: /tags/reactjs/l/latest?board=default
Now the user is viewing the Kanban board and tasks to be done related to that Tag-Page.
The same appending url navigation will work for the calendar plugin. For the voting it will combine tags using the 'Intersection' feature.
an example of displaying multiple tags:
/tags/intersection/reactjs/vote
Note: You don't have to code the header which is added automatically via our Discourse hookup.
All stats/charts can be pulled from Discourse with a single api hook
Here a link to some basic forum stats to give you an idea where to start looking: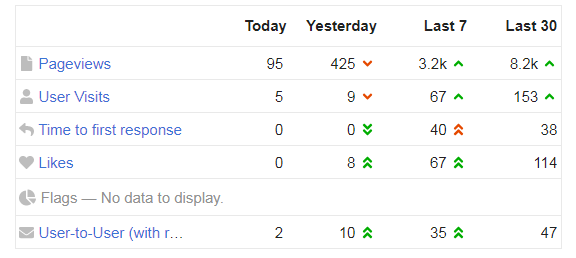 These stats are in at /admin, in the general section and available via Discourse Api.
More stats: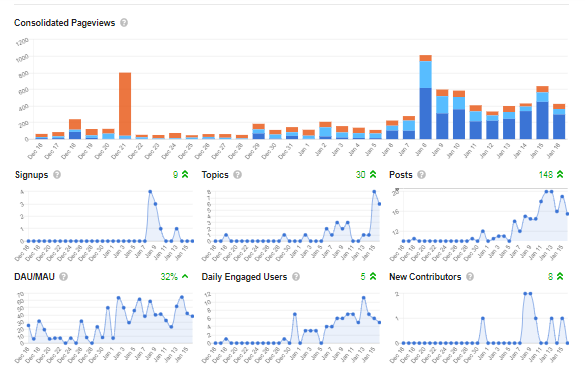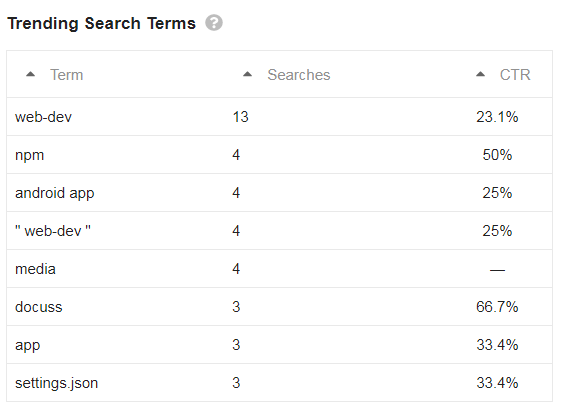 There would be no search bar in the banner of this page (as we have two different search functions, one for global and one for local)
The floating footer has three different options. 'About' 'Join' 'Community Values'. The URL for these can be found in the burger menu, join being the create account page.
Note: logged in users will arrive at their profile page instead, so this page is for new visitors mostly. Logged in users can navigate here directly.
@cis-deepesh can we please move the discussion regarding the footer here so I can see what you are referring to without having to navigate across the site.
Section 3 would be default. If it doesn't find something in the URL to tell it otherwise, then the options returned are section 3
@cis-deepesh if you see the mock up here: https://marvelapp.com/d5da1ih/screen/63956355
the UX team designed the text to be black, a bit larger, wider spaced and the footer is a solid colour rather than semi-transparent.
i see section 1 and 2 in your images. i don't see section 3 or 4 (i suppose 4 is difficult as you don't have access to the map in your dev environment). in section 3 'vote' will be greyed out as we have to work out how to identify them (we could just create a vote category. once the site uses tags for navigation setting it to this would show only the voting threads on that tag). Calendar would point to the users calendar for now, as this plugin needs to support tags.
Hello Andy
Hope you are doing well.
I am not getting the task related to Section 3, in that task I need to work with Forum, Our task is to show static links on floating footer depending upon few conditions but access that page and enable voting, vote on any forum/tag/action is not part of the footer.
The landing page of the forum has different options in the footer to all other pages.
Landing page logged in: section 2
Landing page not logged in: section 1
All other forum pages: section 3
All map pages: section 4
Section 3 has 'vote' as one of the buttons which shows users the threads with voting enabled on their current tag page.
Hello Andy we have updated the footer as per your suggestion ( Change footer background, font-type size, and changed footer to floating pages ). Please have a look on the screenshots and let us know your thoughts.
Yes, that looks correct. Is it created as a Discourse theme component so we can install it on the site?
Also what email addresses should I add to our GitHub?
We have made the changes directly on the code base of the open source version of application which we have cloned.
And regarding the email to add on Github, please add: [email protected]
The brief is that your changes need to be a plugin or theme component, otherwise they'll be incompatible when discourse is next updates
There are good guides on the meta.discourse.com website on how to wrap your changes so they are a theme component
Then we will need some time to check feasibility also we will have to revise the estimation which we have already provided for the tasks as we have considered to modify the code directly for the changes required.
I did explain this in the brief. The tasks we agreed are that you are creating and modifying plugins
Yes you have mentioned about some existing plugins and we need to make sure they work with our changes, but we didn't consider to create plugins for all the changes we will do as the creation and updation of plugins requires more time.
The whole task we agreed so far is creating new Discourse plugins or theme components and modifying existing ones. It's been a part of every conversation we've had.
We have shared a requirement understanding document with detailed estimation doc where we never mentioned we will create plugin or theme component for any of the changes we will be doing. It would not be possible to make the plugins on the same budget and time frame, we will require more time to develop it and make it compatible as it require generic code to be implemented.
I don't really understand this discussion.
You contacted me about an advert for creating a new theme made up of modifying some plugins, and creating 2 new ones.
The design overview mentions theme and plugin regularly.lncluding the title and 1st lines. Many of the tasks refer to the plugin admin area. This entire discussion has been about creating plugins.
We can't discuss a new quote. I told you what we needed and what our budget was.
Just to explain what went on here for anyone who stumbles across it in the future. Our progress slowed and i was stressed really wanting to get this platform ready so we could begin building the community. I decided to borrow money and fund it myself and put ads out for someone to edit existing plugins to get us to MVP on this platform. The guys above answered, we talked for a couple of weeks talking about the plugins to edit… then… well somehow they didn't know we were talking about plugins despite it being the predominant theme of our communications.
Anyway, i'm kinda glad. I like that our community's platform has been built 100% by people who buy into our vision and the change we are trying to create in the world. 100% kindness fuelled

Good news! There is a new footer plug-in in Discourse which should make this task easier as now it's just redesigning an existing plug-in, building the logic, and making it a floating footer.