Welcome, we're so pleased that you're here!
Our forums are built in Discourse, a wonderful opensource project and community. We use Discourse as our community building and communications hub. You can imagine it like a shadow of our platform. Everything on the platform has a discussions section like a sexy shadow behind it.
Here's the link to our Android App if you haven't already got it. It does make communications easier and more fluid. The iOS version is coming soon.
As a new user of Discourse, we hope you will find this site intuitive and clearly structured, but here is some guidance to get you started:
0.5 Making Posts Correctly: Tag-Pages Guide
---
0.5. Making Posts Correctly (Tag-Pages)
Due to excellent work by @ArtyS on the kanban plugin we can begin switching the entire forum to run on tag-pages.
We'll keep the category structures for now, just design navigation of the forum around tags.
What that means for you in general use is to be very specific with the tags you use when creating a post as those will determine where your post is listed within the forum. One of the biggest advantages of this is a fluid multi-level and cross-team experience.
For example:
You can now create a collaboration on a task simply by tagging it in both like this:
'ux, reactjs, sprint'
. Now it appears as a task for discussion in both teams 'sprint' list.
You can also use top level overviews like this:
'ux, reactjs, webdev, backlog'.
Now clicking webdev will show all dev related tasks in all teams to give a quick, powerful overview.
To make things even cooler you can also spin-off sub teams whilst remaining in the main team, like this:
'webdev, ux, homepage, backlog'
Now you can have a few team members in the UX team collaborating on the homepage and still being available and engaged in the wider UX team.
Probably at some point an existing task in their 'homepage' sub-team will benefit from some UI or Graphic Design support - often its easier to create a new task/thread, but if not it's still easy - just add a UI, Graphic Design tag to your discussion and it'll appear in their Kanban board. A comment saying hello and explaining what you need support with in that thread/task would be a good idea at this point as new community members from a different team will be coming in to read whats going on.
1. Basic Terms Used by Discourse (Nomenclature)
Here are some very basic terms that will be helpful to keep in mind as you use Discourse or read this guide:
Topic:
The collection of messages grouped together in a meaningful conversation, with a title, listed in a category, beginning with an Original Post, and including all replies in chronological order.

Elsewhere this might be called a 'thread' but Discourse uses 'topic' since thread is used for linked elements that can go off in many different directions (and be confused with programming terms).

Post:
Each element of a topic is referred to as a post. Each post has its own author and can be moved to a different topic if necessary, or even become the start of a new topic.

Original Post (or OP):
The first post in any topic. This is key since it determines the focus of the topic and is what the title and tags will link to.

Category:
The primary means of organizing topics. Each topic is placed in exactly one category. Categories have permissions which can restrict which users can create, reply, and see its topics. You can also configure notification preferences per category or even mute them as explained below. Categories are a similar concept to a 'forum' on other sites.

Tag:
A marker placed on a topic to describe it. While a topic can only have one category, it can have multiple tags. New tags can be created by some users. You can read more about the differences between tags and categories.

User:
Discourse sites may be private or public for anyone to read, but you will always be required to register in order to create posts and record any actions such as bookmarking, liking, tagging, and flagging. Most site activity, therefore, is based around registered Users
Click here for the full Discourse Nomenclature (in progress)
2. Browsing the Forum
Topic lists
By default, the Discourse homepage will show all Latest conversations in the community but you can filter this list in a number of ways:

By category: in the menu line, click the 'all categories' title and a list of all the categories appears.

By tag: in the menu line, click the 'all tags' title and a list of all the tags are used will appear.

By level of activity: if you click on 'Top' the conversation topics will be listed in order of most activity (views and replies) for a specific time period. You can choose whether this is for all time, or select a specific period such as quarter, month, week or just today.

By what's 'New' to you: by default, new topics are those created in the last 2 days that you have not opened yet to keep the list fresh and relevant. New topics show a small blue dot next to the topic title
By what topics are "Unread": by default, unread topics are those that you have previously opened and read for at least 4 minutes, and that have new posts (replies) submitted to them. Unread topics show a number in a blue circle indicating how many new posts are in the topic.

See who is participating
There are several ways to see who is involved in topics.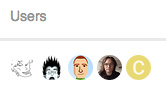 On the homepage you will see a selection of avatars (profile pictures) of:
the user who started the topic (always the first photo);
a selection of the most active participants;
and, who created the most recent post (usually the last photo).
in some cases, the first photo has a blue border or blue halo to indicate that the original poster is also the most recent poster

The box at the bottom of the OP tells you; who created the post and when, gives a count of the replies and views in this topic to date, and a display of the avatars of the most frequent participants.

3. Navigation Tools
For Search, the Menu, or your User page, use the icon buttons at the upper right .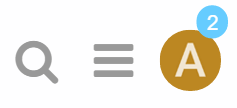 4. Reading Topics
A healthy community needs members to be posting new content, but this activity is not everything. Readers are the true indicators of how healthy the community is. What's the point of posts that no-one reads? Discourse encourages and tracks reading habits so community managers can keep a healthy balance.
Keep scrolling
Click a topic title and read down the list of replies in chronological order, following links or previewing replies and quotes as you go. Use your mouse to scroll the screen, or use the timeline scroll bar on the right which also shows you how far through the conversation you've read. On smaller screens, select the bottom progress bar to expand it.
Jump back in
Selecting a topic title will take you to your last read post in the topic. To enter at the top ↑ or bottom ↓ instead, click the reply count or last reply date.

Topics above the light red line on a list are new or updated since your last visit. If you have read all the way to the end of a topic, the title will be light grey instead of black.

Related topics
Sometimes conversations are clearer if topics are split, where posts are moved to a more appropriate topic, or two related topics are merged. If a post is moved, a link will appear that will allow readers to jump to that comment wherever it has been moved to, and the person who posted it will also be notified.