Preview + Editor = Sexy Typing UX: change default composer to have only one editing window that shows the preview unless toggled via eyeball icon (in which case you'd see your markdown formatting) this will take less space on the screen, and reduce the visual complexity caused by having two views of one idea

Make Mobile Commenting Simpler (simple = sexy): change default composer window specifically for mobile devices to be more compact, akin to your SMS text editor. this will make it easier to reference what message you're responding to while on mobile
Is there a way we can perhaps combine the "preview" view with the actual editor by default?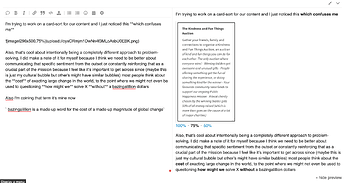 Basically just view any formatting in real-time, one window. I can think of a few examples of markdown editors that do this well, Bear is a common note taking app.
I think the only people who probably would make use of the non-wysiwyg components would be us, but we could just use an eyeball icon to toggle wysiwyg view like in this example using dillinger


the composer takes a lot of real-estate even when it's in it's "compact" state, and that's only on a laptop. On a phone or tablet, it becomes pretty obnoxious and sometimes I find myself just cutting my losses trying to respond to something because I get annoyed having to expand/collapse the editor try to remember the points I'm responding to. That's a ux issue but knowing it's a problem vs fixing it are two separate things!
For moble, could we have a more compact editor that only expands to accommodate what you have typed in? If you go to your phones SMS editor, you'll see how it starts with only a small space to begin typing. This makes sense because you're typing a response generally, and responding to a message usually involves remembering what the message was, so it's best to keep that handy and visible while composing a reply.