Link to theme component thread in Meta Discourse dot com
Standard Setup For Project Management
Backlog
Sprint
Doing
Done
Adding a card into the Missions Board
Create a normal post in the forum and add one of the above categories as a tag

or
press the # key in an existing thread and type in a hashtag to add that thread into the boards
Expanded Definitions
How the standard hashtags should be used
Useful Links
Links to files accessible to everyone in cloud storage (like a sharing link from google drive).
External tools and spaces used by the team (note: the primary space for communications and project management should always be this platform)
Backlog
A dump for all tasks anyone in the team can think of which need doing to reach definition of done. Each post should begin with a definition of done, so everyone knows what it will look like when the project is complete, rather than having endlessly on-going projects and builds.
All Missions should be broken down into 30min - 1hr chunks. Occasionally this isn't possible or desirable so a larger task can have stages inside as bullet points which are 30 min - 1 hour tasks.
Team Leaders should trim the Backlog list each period to update Missions and remove no-longer relevant Missions at the beginning of each Sprint period.
Sprint
At the beginning of each Sprint session the team leaders choose the most valuable missions to get a for the coming period and move them into the Sprint column (taking into account how many missions were completed last Sprint, and basing their decisions on simplicity and reaching a minimal viable version as quickly as possible).
Doing
Community members assign Missions to themselves and move it into the Doing list. They will be unassigned and the Missions moved back into Sprint if not completed in that Sprint period.
Done
Community members move cards into 'Done' when they are complete.
Setting Up New Mission Boards in Categories
(we hope to automate this at some point)
Steps
Navigate to Admin > Customise > Components > Discourse Kanban or click this direct link
Add the category url in 'Display Categories'
Add the required settings in 'Default Modes'
Copy Paste the settings below (because its very easy to accidentally wipe them)
Navigate to the category to check it worked ok
Input Format
(category tag):(mode):(tag),(tag),(tag),(tag)
example:
positive-action-flash-mobs:tags:Backlog,Sprint,Doing,Done
You can choose either 'tags' or 'categories' as a mode. At the time of writing we haven't found a use for 'categories' mode, so please explain to others what you will use it to achieve before selecting it.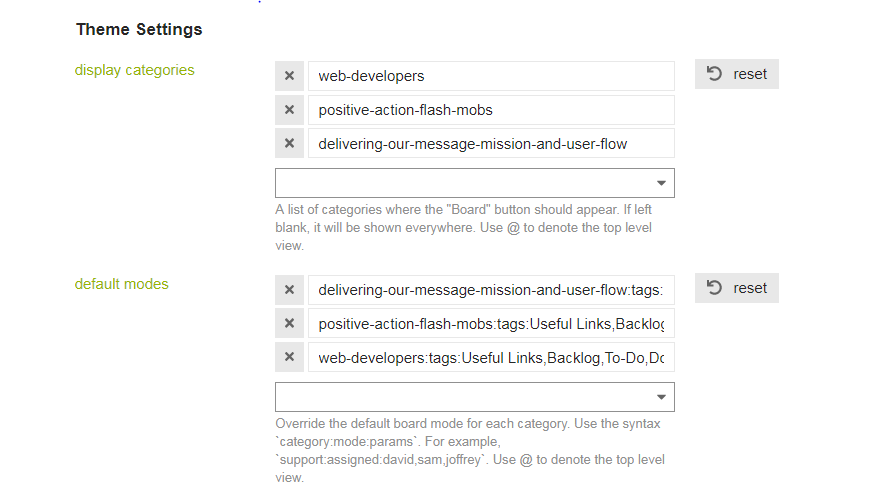 Put a Board in a Sub Category
To create a board in a subcategory both the subcategory and its parent need to be defined separately in both 'default modes' and 'display categories'
example:
Desired Category to add a board to: UX

Default modes needed:
'web-developers' (the slug of the main category)
'delivering-our-message-mission-and-user-flow' (the slug of the sub-category)
delivering-our-message-mission-and-user-flow:tags:Useful Links,Backlog,Sprint,Doing,Done
web-developers:tags:Useful Links,Backlog,Sprint,Doing,Done
Bugs (important to read)
If the category url/slug contains a number it will not work and the board won't show up. You can change the slug/url by navigating to the channel and clicking the edit button then defining a 'Category Slug' which does not contain a number (please let other admins know you have done this as any links to that category are now broken)

The theme component ignores categories which use the default name, for some reason. So '74-category' will not have a board until you rename it and define that name in settings. You can't define '74-category', the component will ignore it. Presumably this is related to the bug above with it ignoring numbers.

Tags must be lowercase in all areas. If you use an uppercase letter cards across the site will begin duplicating cards when you try to move them.
URL for All Tasks Assigned to Users
This will be turned into a button, or modal on the users homescreen
https://publichappinessmovement.com/latest?board=assigned%3A(username)
here's mine: https://publichappinessmovement.com/latest?board=assigned%3AAndyatFocallocal
Settings Backup
Main Categories with Sub-categories underneath (they aren't differentiated in the components settings, but it's good for us to keep the separate to keep things organised.
Ready to copy/paste back in if there is an issue
Default modes
web-developers

delivering-our-message-mission-and-user-flow

positive-action-flash-mobs
Display categories
web-developers:tags:Useful Links,Backlog,Sprint,Doing,Done

delivering-our-message-mission-and-user-flow:tags:Useful Links,Backlog,Sprint,Doing,Done

positive-action-flash-mobs:tags:Useful Links,Backlog,Sprint,Doing,Done